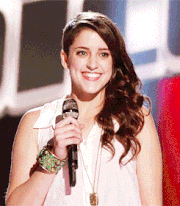 A bartender from Sacramento, Lindsey always knew she had musical talent - but didn't start performing seriously in public until recently. But the relative newcomer's natural ability was apparent to the coaches immediately after she performed her own unique interpretation of Trey Songz' "Say Aah."
The indie-rock, guitar-playing singer counts Radiohead, The Foo Fighters, Fiona Apple and Bjork among her biggest influences
Ad blocker interference detected!
Wikia is a free-to-use site that makes money from advertising. We have a modified experience for viewers using ad blockers

Wikia is not accessible if you've made further modifications. Remove the custom ad blocker rule(s) and the page will load as expected.